Plastic recycling machines applicable materials
1. Specialized screw with different configurations can be adopted in the regeneration and mixed color granulation of plastics, such as PP, PE, PS, ABS, PA, PVC, PC, POM, EVA, LCP, PET, PMMA.
2. The gearbox adopting high torque can achieve smooth and quiet operation.
3. The screw rod and barrel through hardening treatment has the characteristics of wear-resisting, good mixing performance, and high output. The design of vacuum exhaust or common exhaust port can discharge water and waste gas in the production process, making the finished products more stable and stronger, thus the excellent quality of products is guaranteed.
Plastic recycling machines application scope:
Plastic recycling machines are mainly used for processing of waste Plastic film (industrial packaging film, agricultural film, greenhouse film, beer package, plastic bag, etc.), woven bags, farm-oriented bag, basin, barrels and bottles, furniture, home uses, etc., and is applicable for most waste plastic processing. It is widely used and is popular with the Plastic processing plant owners.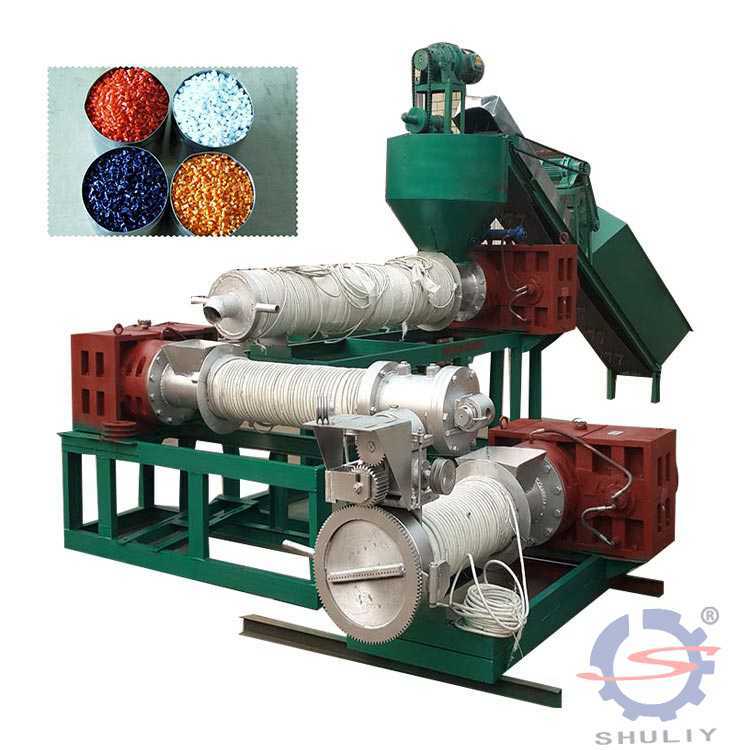 Product features
1. All the recycled materials after being broken, cleaned and classified can put into production without drying.
2. It realizes the fully automatic processing of raw material crushing, cleaning, feeding, and granulation.
3. Full use of the continuous high-pressure friction heating system, it can heat automatically, avoiding continuous heating and saving energy.
4. The department adopts the separate automatic distribution system to ensure the safe and normal operation of the motor.
5. The screw is made of high-quality intensive carbon structural steel imported, which is durable in use. The appearance of the machine is beautiful and simple. The color is customizable according to customer requirements.