Our Service 
Our company is a manufacturer specializing in recycling equipment for waste resources. We own the complete production line of waste PE /PP products (Hollow containers such as bottles, cans, barrels, pipes, and wires, insulation and sheathing of cables, etc.) crushing cleaning and recycling production line development, production and sales integration, has many years of experience in recycling of waste resources, adhering to the "innovative and enterprising, excellence" corporate philosophy, cultivated in the environmentally friendly recycling machinery industry. The plastic pelletizing machine has been served as a major part of markets of countries and regions
PP/PE/LDPE Plastic Recycling Process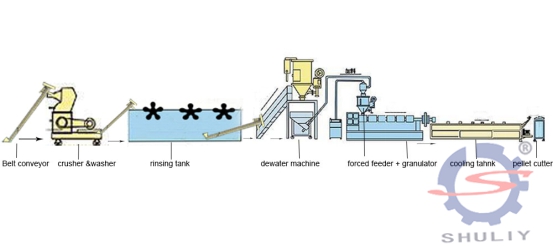 Belt Conveyor: Convey PP, PE  material to crusher & washer machine.
Crusher: Crush and wash PP, PE film into small pieces.
Washing tank: Rinse the crushed PP, PE
Drying Machine: remove the water of PP, PE pieces.
Automatic feeding machine: forced Feed the PP, PE pieces into pellet machine
Plastic extruder: Heat and melt the PP, PE pieces, the extrude them with strip shape.
Cooling tank: cooling the soft strip plastic.
Pellet cutter: cutting the hard strip plastic to pellet.
This PP/PE/LDPE Plastic Recycling line(plastic pelletizing machine) mainly consists of: conveyor belt – crushing and drying machine- rinsing tank – dewatering machine – conveyor – forced feeder – granulator – cooling tank – pelletizer – control cabinet and other components. It is also possible to configure exhaust gas purification devices, storage bins, bagging machines and other related equipment according to customer needs. Through the above steps, the waste plastics are recycled for reprocessing. The entire production line from waste to finished products, is easy to operate, high in efficiency, environmentally friendly and energy-saving.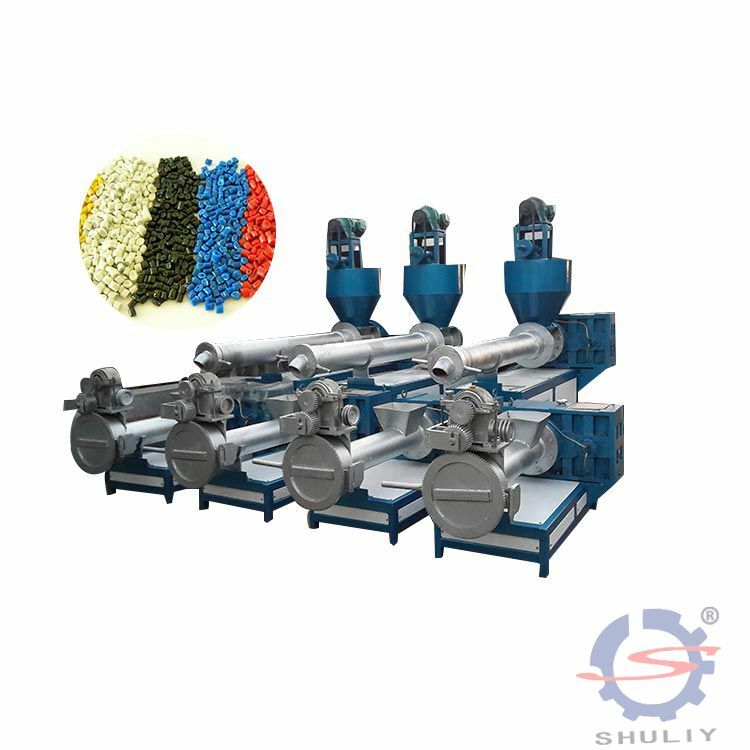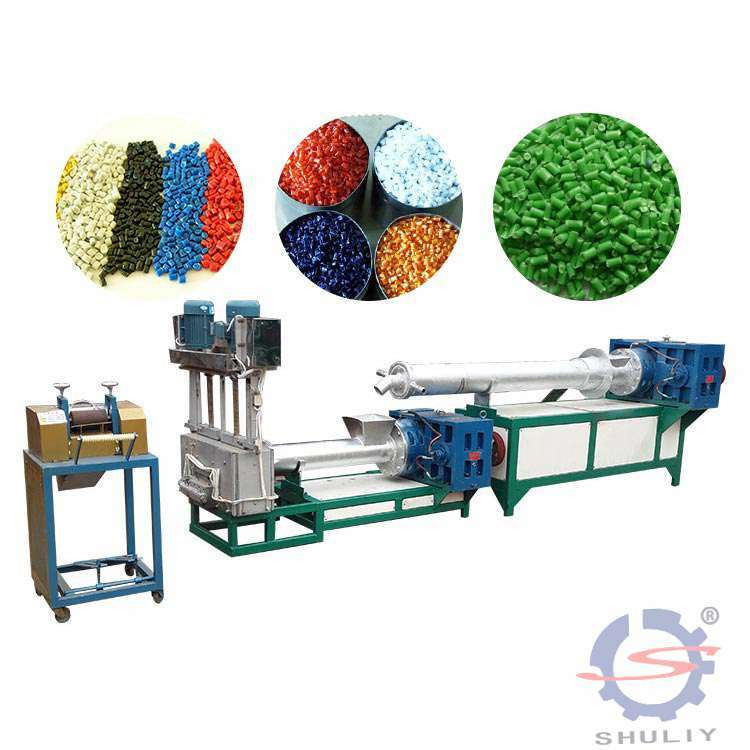 Working Principle of Plastic pelletizing machine
This PP/PE/LDPE Plastic Recycling machine(plastic pelletizing machine) is developed through the introduction, digestion, and absorption of advanced concepts and technologies at home and abroad, combined with the needs of today's development and the characteristics of recycling of waste plastics. It can meet the environmental protection requirements for the recycling of waste plastics at home and abroad. Handle soft floating plastics such as discarded braids and films!
Product Specification
The PP/PE/LDPE Plastic Recycling production line(plastic pelletizing machine) can be combined into various specifications according to customer requirements. From 200KG/H-3000KG/H, our company has had successful cases. The machine features beautiful appearance, low energy consumption, high output, practical and reliable. The new rinsing device can be used for washing, greatly improving the production efficiency, and the cleanness of the washing material is pure, reaching the requirements of the first-level net film. It is an efficient, water-saving device.
Our company is engaged in waste plastic cleaning and recycling equipment for more than 10 years, can design different cleaning plans, cleaning processes, recycling planning, and site planning according to your different requirements. With our expertise, you will be rewarded with a good return on your investment.
Sales service
Pre-sales service: Provide you project planning; process design; develop a set of equipment that suits you; design and manufacture products according to your special needs, and provide training for your technical operation;
In-sale service: Precise production equipment, and accompany our customer to complete the acceptance of the equipment, assist in the preparation of the installation plan and detailed process;
After-sales service: our company will send technicians to customers' site to guide the installation of equipment, commissioning the equipment to normal production and training the operators for use and maintenance;
Product quality: Except for wearing parts, quality assurance within one year, lifetime maintenance.
Our company's integrity management, quality assurance, welcome to consult and negotiate.